---
Kasaoka Horseshoe Crab Museum
Kasaoka Horseshoe Crab Museum
The Kasaoka Horseshoe Crab Museum is situated in Kasaoka city overlooking the Konoshima channel.
The channel was nationally designated as a natural monument and protected "horseshoe crab breeding ground".
The facility is unlike any other, and is the only horseshoe crab museum in the world.
The building is even shaped in the image of the horseshoe crab.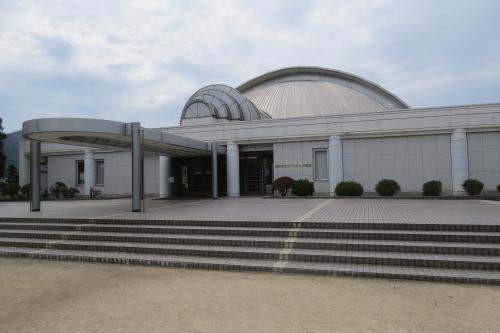 Horseshoe Crab Aquarium
We have a large aquarium, where you can closely observe adult horseshoe crabs.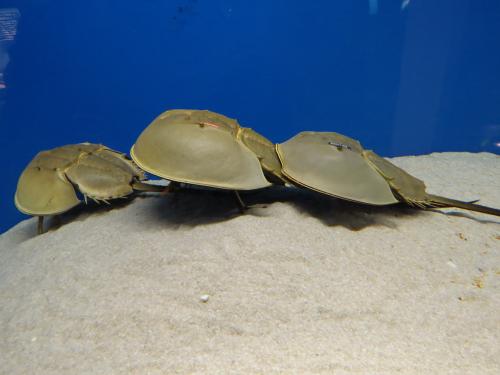 Living Fossil Corner
There are eight different kinds of living fossils sorted in the window display.
You can find horseshoe crab fossils that were found in Sornhochen Germany.
These living fossils are better kept than any other fossils, even their tracks are clearly shown.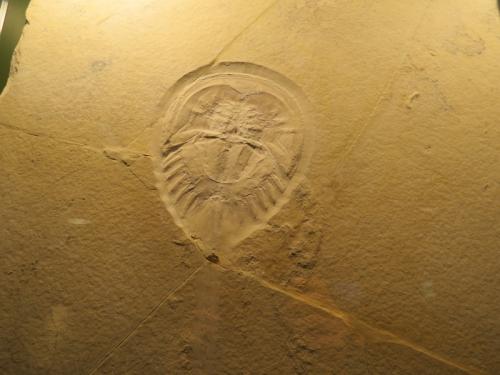 The Growth of Horseshoe Crab Museum
Do you know how many times a horseshoe crab sheds its shell from a hatchling to an adult?
It is estimated that a male horseshoe crab sheds its shell 15 times over 13 years, while a female sheds its shell 16 times over 14 years.
Roaring and Moving Baryonyx
A moving Baryonyx can be found on exhibit on the first floor.
The Baryonyx is the first known dinosaur to eat fish and possibly horseshoe crabs.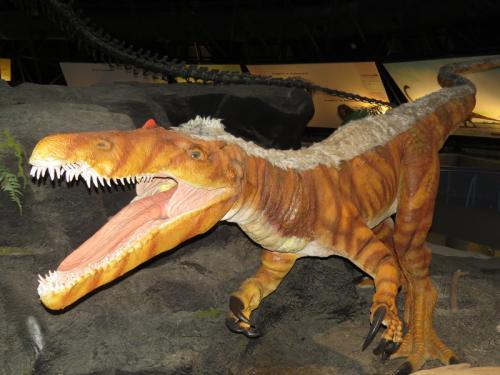 Horseshoe Crab Theater
We have a large screen theater that can hold up to 80 people.
You can watch a horseshoe crab film on our large screen, and take interactive quizzes.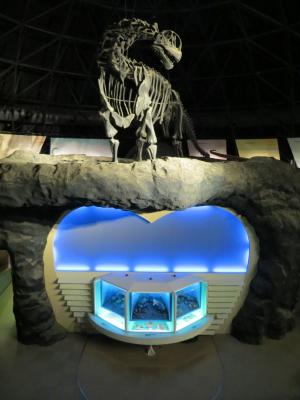 Dyno Slope
There are various dinosaur fossils representative of the Mesozoic Era.
The horseshoe crab has survived through that age to present day, but the dinosaurs did not survive and became extinct.
We can only see dinosaurs as fossils today.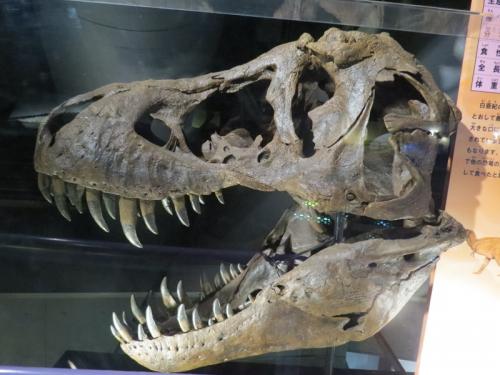 Breeding Exhibition Room
In The Kasaoka Horseshoe Crab Museum, we breed and release larvae in order to protect the horseshoe crab population surrounding the Gulf of Kasaoka (declared natural monument).
In the breeding exhibition room, you can see the artificial breeding process and look at larvae up close.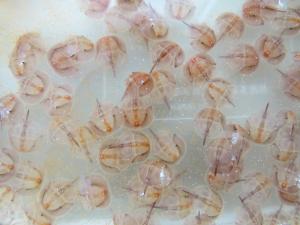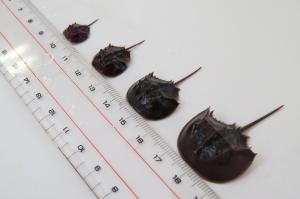 Dinosaur Park
There are eight dinosaur replicas (seven different species) found within the park.
They are all life-size casts and were designed under the supervision of academic specialists.
Come and discover the era when dinosaurs lived!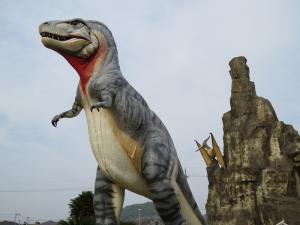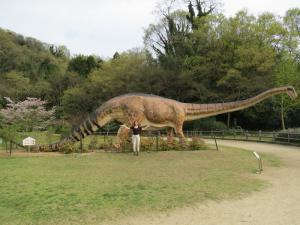 Hour
9:00 am - 5:00 pm.
(Last Admission 4:30 pm.)
Closed
Monday, 29 December to 3 January, and the day following anational day.
(Open daily from 25 March to 10 April to 10 May, and 15 July to 31 August.)
Charge

Transport
Bus : Konoshima line from Kasaoka bus station (in front of JR Kasaoka station), to bus stop "Kabutogani Hakubutukan Mae"(about 20 minutes).
Car : 9.7km far from Kasaoka I.C. of Sanyo High Way (abouto 30 minutes).
1946-2, Yokoshima, Kasaoka-shi, Okayama
---